At South Woodham Evangelical Church we run a number of groups to cater for children during the Sunday morning service and throughout the week.
10.15am Sunday School
At Sunday morning services in the church, after a time of sharing in all-age worship, children meet in different parts of the building for teaching and creative activities to learn more about God.
For further details, please contact us.

Open Door Toddler Group
For toddlers (from new born) and their Dads, Mums, Grandparents and Carers!
The first five years of life a child's life are not always easy, but are an amazing adventure for the child and for those looking after them.
Open Door Toddler Group would love to play some small part in this important journey!
There are loads of toys to play with, a dedicated baby area and a 'crafty craft table' where adults and children alike can get messy (with wash out paints, etc…) and make some fabulous crafts.
We finish our morning with 'circle time,' a chance for your child to learn traditional songs and nursery rhymes and dance or wiggle to our funky children's worship songs. Sometimes, our minister Lindsay will also tell a short Bible stories in a fun way…
When we meet
Open Door meets in the Evangelical Church on Tuesdays 9.45 am to 11.15 am during school term time. Access to the church hall for those with push chairs is by the side door.
Cost
A suggested voluntary contribution of £1.00 per family covers the cost of drinks and biscuits.
Contact us for more information.
Uniformed Groups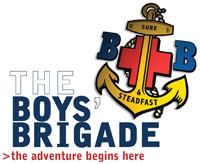 At South Woodham Evangelical church we run Boys' Brigade and Girls' Brigade groups for children and young people age 4 – 18.  Click on the links below for more information:
Child Protection Policy
A copy of this document is on display in the church. Child Protection Officers are Hazel Smee, Jane Holden and Kim Smith and their contact details are in the church.